CIM President-Elect Anne Marie Toutant tees off at the CIM Toronto Branch annual CIM/CMP Frank Grieco Memorial Golf Tournament
CIM branches across the country hit the greens this summer, after the 2020 golf tournaments were cancelled due to COVID-19. And branch members were thrilled to be back. Aside from a day of fun and socializing, albeit in a restricted manner this year, the CIM branch tournaments are excellent fundraisers. 
This year marked the 89th edition of the CIM Montreal Branch golf tournament. It was held on September 2 at the Elm Ridge Golf Course in Île-Bizard, a suburb of Montreal. "This is our big event and we are happy to have it back after the one-year hiatus," said branch president Jeffrey Cassoff. "We have members that have been coming to our golf tournament for many consecutive years. It is our only event that we aim for a positive cash flow."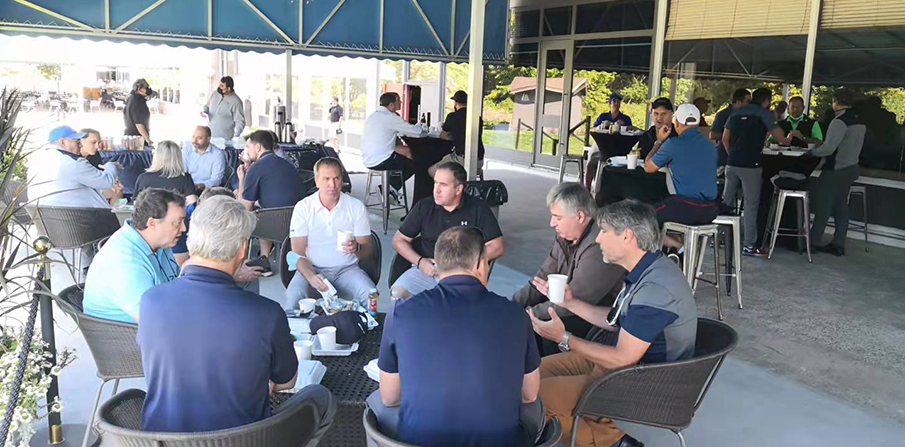 Montreal branch golfers enjoy the annual kickoff breakfast a little differently this year, outdoors and socially distanced.
That positive cash flow – from 105 golfers, several generous sponsors and the CIM Foundation silent auction – goes towards student development, with the lion's share to sponsoring the teams from McGill University and École Polytechnique at the Canadian Mining Games. 
CIM Toronto Branch held its 20th annual CIM/CMP Frank Grieco Memorial Golf Tournament on August 25 at Glen Abbey Golf Club, which features a course designed by legendary golfer Jack Nicklaus. Van Vekris, the branch's golf tournament lead, echoed Cassoff and said, "After 18 months of COVID-19, golfers were happy to be back on the course to socialize and network."  
Instead of the usual shotgun start, followed by an awards banquet, this year, the 123 Toronto branch golfers were split into two groups, the first started at 9:00 a.m. with players staggered every 12 minutes, followed by a lunch. The second group followed the same game plan, starting at 3:00 p.m. to prevent the two groups overlapping. Gift certificate awards were emailed out to prize winners. 
Funds raised will go towards educational events such as the branch's monthly networking lunches, student mine-site tours and the annual Rocks and Stocks conference. "It's important to encourage and attract folks to the industry," said Vekris.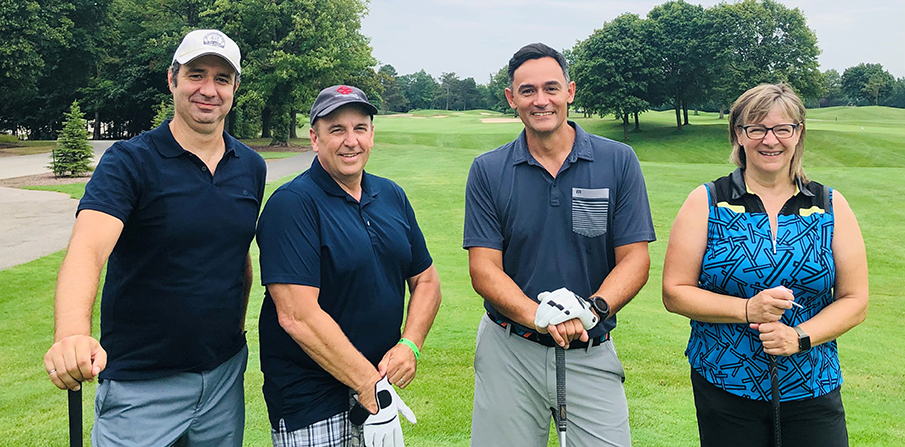 CIM team at the Toronto Branch tournament. (From left) Van Vekris, Curtis Clarke, Kurt Breede and Anne Marie Toutant
The CIM South Central B.C. Branch held its annual tournament at Kamloops Rivershore Golf Links on September 24, capping off the branch AGM and conference. At the time of writing, smog filled the skies from a month of wildfires burning in the south-central region. Hopefully, the fires will have died down for golfers to get out on the course for some much-needed camaraderie after an extra-long break.  
"This year's conference and golf tournament are important, as we did not have one in 2019 due to MEMO [CIM's Maintenance, Engineering and Reliability / Mine Operators Conference], 2020 saw COVID and 2021 is seeing unprecedented wildfires in our area," said branch co-chair Shawn Maunula. "We need to get together with our mining community more than ever." 
Recipients of funds from the 2021 conference and golf tournament will be the Kamloops Foodbank, as it is every year. "We will also be looking at helping out with those charities that have been supporting those affected by the wildfires. We did this in 2017 as well, when the northern part of the province saw evacuations," said Maunula. 
On September 10, the CIM Northern Gateway Branch will hold its 14th Annual Golf Classic. Like the other annual tournaments, along with most every kind of gathering, the 2020 one was cancelled due to COVID-19. The 2021 restrictions mean that only the first 100 registrants will be allowed in in order to respect the social distancing requirements at the dinner after the day on the links. At press time, those spots were filling up fast.  
The importance of mining education is the focus of fundraising for Northern Gateway, with dollars raised going "to sponsor the Teacher's Mining Tour, Mining Matters funding for local schools, Mining Week in North Bay, and others that we can support from our local branch coffers," said Bernie Robertson, social program chair for the branch.  
At the end of the day, the CIM branch golf tournaments are all about community, networking with fellow branch members and sponsors, giving back to local communities and outreach to the next generation mining community. "All of us have endured a very long winter, so we all look forward to spending a fun day outside," said Vekris. "And it's for a good cause."